I've had some requests to share information on my favorite chairs in my sewing room.  While I'm at it, I am going to share information on more than just the chair.  First, the most comfortable chair I have ever owned is one made by Herman Miller.  This chair is not cheap.  During my travels many years ago, there was a Herman Miller chair at the desk in my hotel room.  Here are some thoughts….great marketing idea because I bought one after sitting in it.  The chair adjusts in many different ways…height of seat, height of arm rests, tilt, back support….  If you think this is something you might want, I suggest you do what I did….go to the store and sit in them (many different options).  If you are a sewer/quilter, you can be in this chair for hours at a time and still be comfortable.  Comfortable is a necessity!  No back pain after sitting for a long time so I feel my money was well spent.  If you search Herman Miller, you can see if there is a store near you.  There were no stores near me however, I checked around during my quilting/teaching travels and there was a store in the area where I was going to teach.  Lucky me.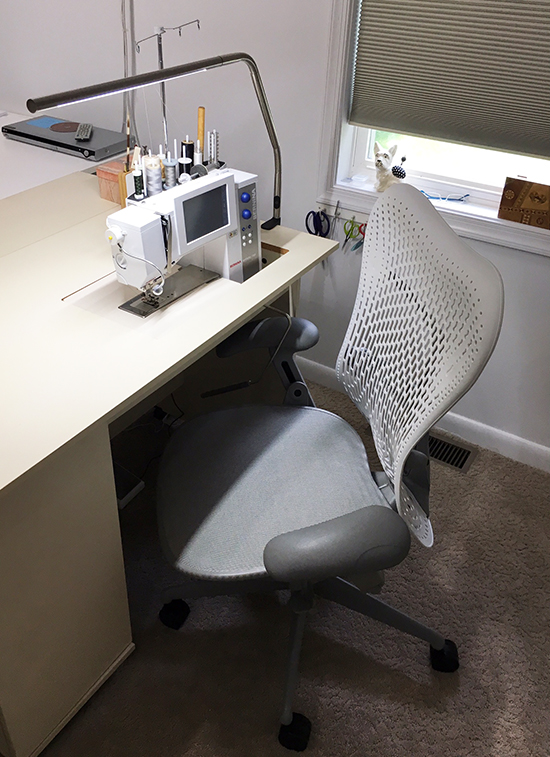 Also, in the above photo and below are several more of my favorite things.   Yes, of course, my BERNINA sewing machine.  I love my BERNINA machines.  Yes, I said machines plural.  I have two in my room.  My opinion again…what if one is not working properly and it needs to go to the BERNINA hospital for a check up or surgery?  You don't ever want to be without a working machine.  Not ever.  I don't think I could sleep at night if I did not have a working sewing machine (just kidding. Kinda).
Next, the light over the machine.  I saw these in the classroom last year at the International Quilt Festival in Houston.  Not even my classroom….just a machine sewing room that I passed by.  I stopped and walked in (not during class….right before class started) and thought….now that's one nice light. So, I ordered one.  I don't have one single regret.  These lights are made by Daylight.  Here is the information:  LED Slimline Table Lamp S, Model U35107 Chrome.  This one clips onto my table.  They also make a floor model version.
And, finally, in this photo is a thread stand that attaches to my machine.  It holds multiple spools of thread along with some of my bobbins.  I have found that a lot of my threads like coming off the spool and going through the thread guides on my stand as opposed to sitting on my machine thread spindles.  What I mean by that….I get a better stitch, better tension.  I think the stand is called a Conductor Thread Stand under the BERNINA accessories.  If I am remembering correctly, there is one that holds 10 spools and one that holds 20 spools.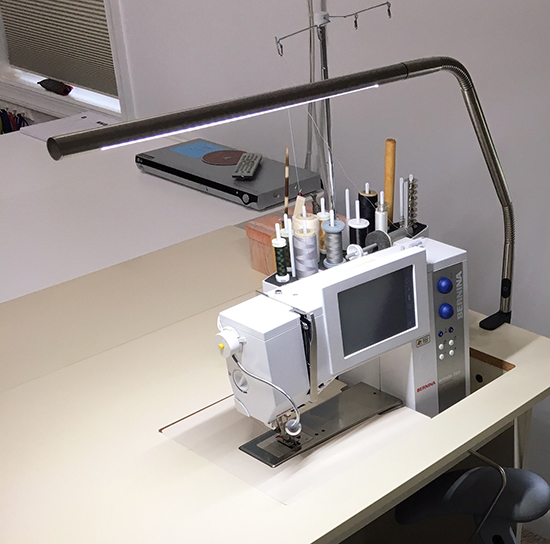 The last of my favorite things for this blog is my other Herman Miller chair.  Since I do a lot of prepared edge applique techniques, I sit at my ironing station for many hours at a time.  Again, I don't want to have back pain and I was getting it right between my shoulder blades.  Ouch.  So, I looked and found a Herman Miller drafting chair.  The height was perfect for where I sit to iron edges.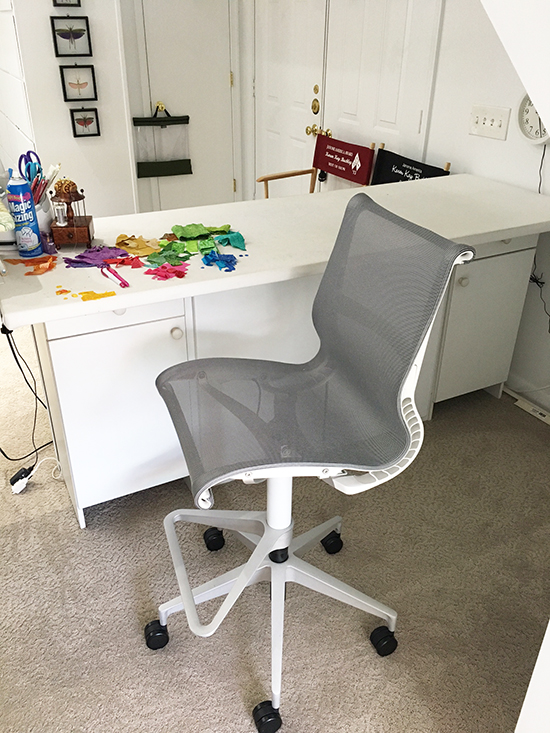 Not realizing this when I took the photo…two of my other favorite chairs sit in the background of my ironing station.  They are the two Best of Show awards received in Paducah.  Crazy as it sounds, Renae and I were sooooooo excited to get a chair.  If you are a top winner at the AQS show in Paducah, you win a chair.  (Think of this like Oprah saying….you win a car, and you win a car….because that is how I feel.)  Getting two of these chairs is a very big deal.  If I never get another chair the rest of my life, I'm going to be OK.  I love my chairs.  All of them.
I am in my happy place when I am in my studio/sewing room..
_________________________________________________________
STUDENT'S WORK
Anne Chamberlain from the guild in Edmonds, WA, where I taught in July, just emailed me a photo of her finished machine applique Circles Squared project.   Thanks so much for sharing your wonderful finished quilt Anne.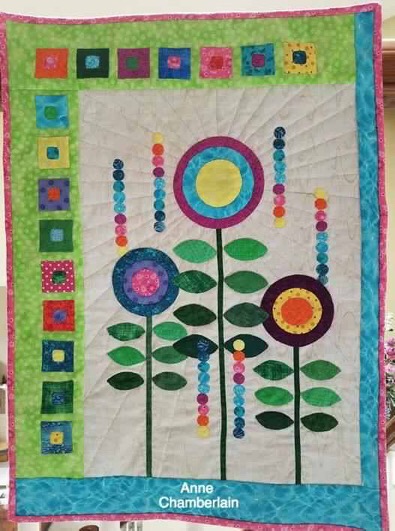 _______________________________________________________________________
BOOK REVIEW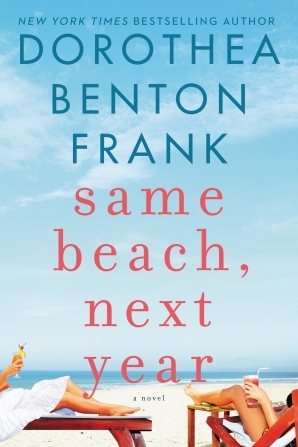 Just finished reading "Same Beach, Next Year".  Two couples have an incidental meeting at their beach condos.  Adam Stanley and Eve Landers were high school sweethearts and this encounter, a chance meeting at the beach, brings back lots of memories.  Their spouses notice the glances between them.  The four of them along with their children, look forward to seeing each other at Wild Dunes every summer during their vacations .  The whole time I was reading this book I kept thinking it would be a great read for the beach….while I was sitting on my sofa at home….no where near the beach.  But the story took me to the beach so I felt like I got a mini vacation.  Enjoyable summer read.
Until next week……