I think I have finally reached the end of my photos of the quilts from the International Quilt Show held in Houston this fall.
This quilt was made by Moira Connata from Houston, Texas.  The name of the quilt is Last Chance, Last Dance. Moira received a third place award in the Traditional Pieced category.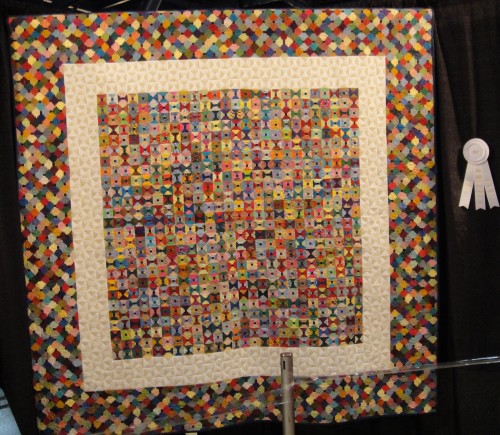 Sometimes when I look at some of the quilts I have made I think how crazy I was to use so many little pieces.  But, Moira, you might have me beat!  There were so many tiny pieces in this large quilt.  It really was amazing to see.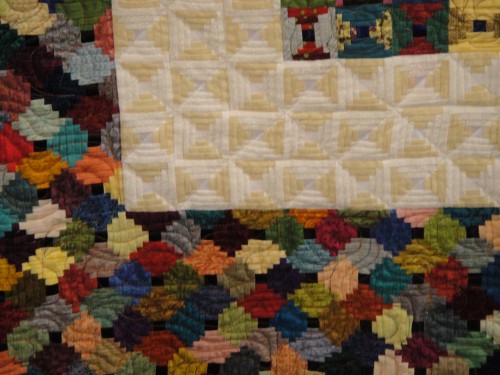 What a beautiful Baltimore Album quilt made by Miyuki Hamaba from Japan.  The name of her quilt is With You.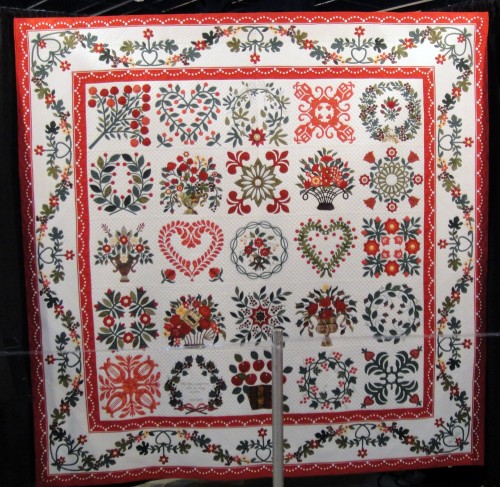 Of course I was very attracted to all the fabulous circles on the border.  I loved this border.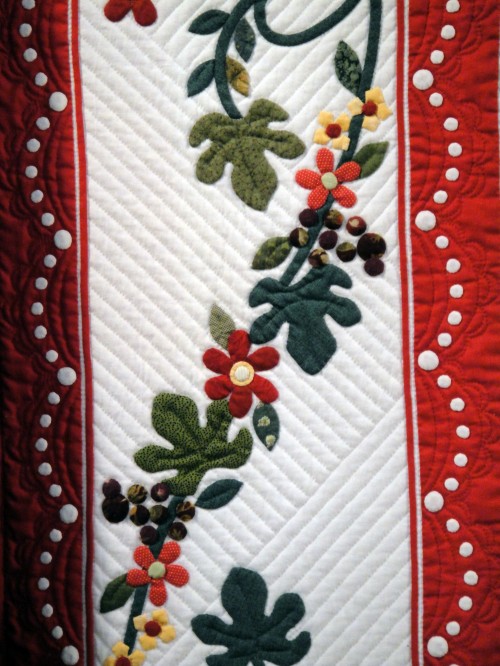 I always love applique on dark backgrounds.  Deborah Kemball from Chile made this great applique quilt called Midnight Garden.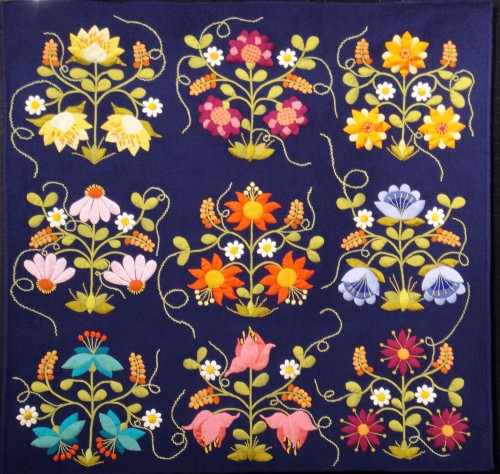 Did I mention that I like circles?  Momentum was made by Becky Goldsmith from Texas.  Becky is half of the Piece O' Cake team.  This quilt reads "fun" to me.  You can find out more about Becky at www.pieceocake.com Becky won a Judge's Choice ribbon.  Way to go Becky!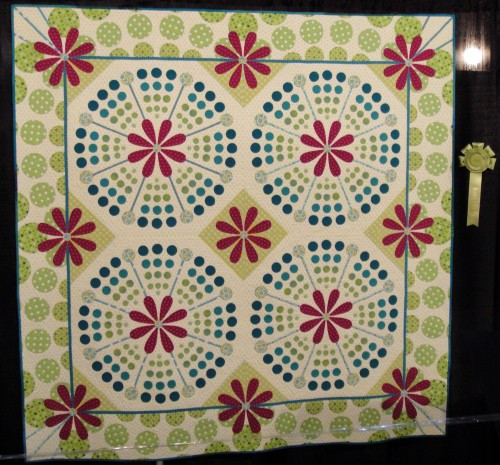 Flower Market was made by Meri Henriques Vahl from California.  She won first place in the Art-People, Pictorial and Figures.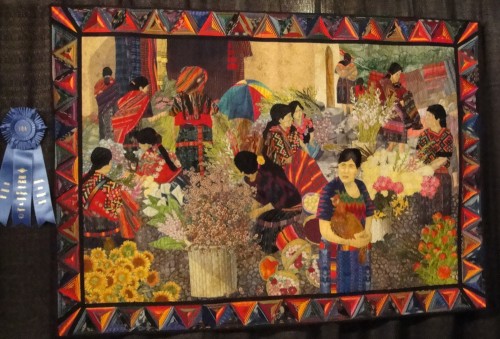 I loved this little quilt made by Aileyn Renli Ecob from California.  The name of the quilt is Vermillion Cliffs. I really like the angled lines behind the branches.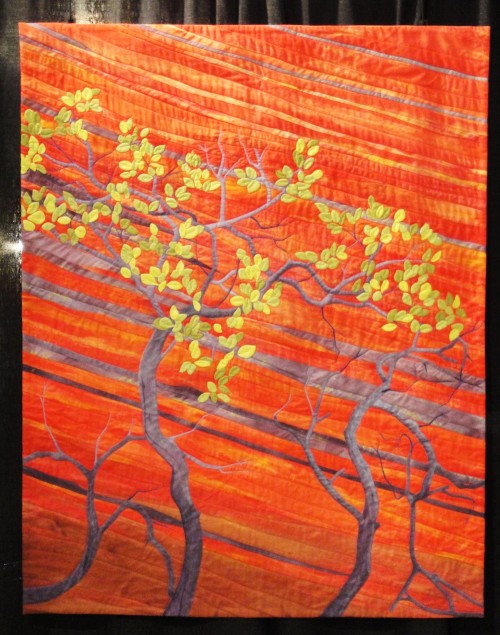 Saguaro Familia made by Lauren Starch from Michigan shows excellent fabric choices.  You can just feel the sun streaming down on those cactus.
And here is another fabulous pictorial quilt.  River Walk was made by Eileen Sullivan from Georgia.  Not only did I like the center of this quilt but I loved the border.  I loved the different fabrics used in the border and the use of the thin yellow strip at the lower border.  Very nice.   Eileen has a great line of patterns.  To see more of Eileen's work go to www.thedesignersworkshop.com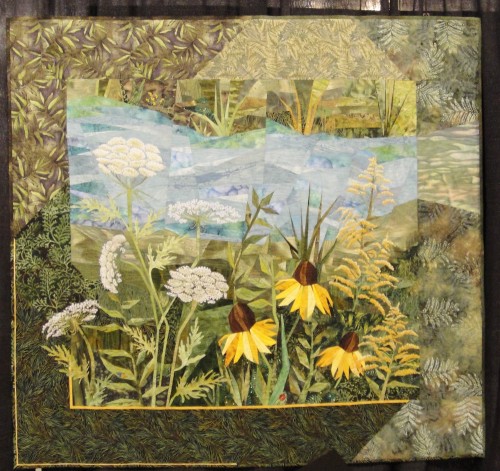 Fireworks was made by Nettie Smith and Linda Hibbert from Colorado.  The irregular edge finish fascinated me.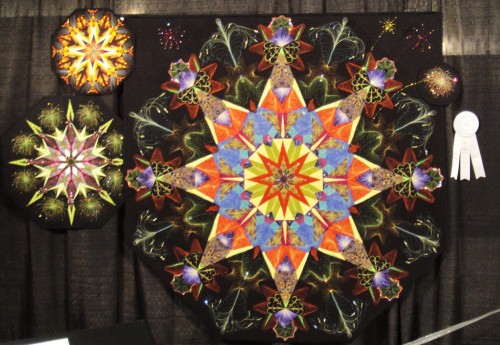 And the quilting was outstanding.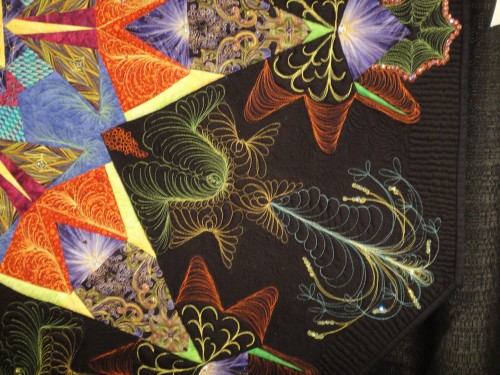 Each and every year that I attend the International Quilt Show in Houston I think the quilts cannot keep getting better and yet they do.  I am so glad so many quilters are willing to share their incredible works of art.