Over the past many years I have provided a transfer paper in my Garden Medley workshop for each student.  Until now I had to refer people to try and find it at their local arts and crafts stores, which was sometimes not easy for people.  I am happy to say that I have now added this item to my website.  Each package contains 4 (9″ x 13″)  sheets of transfer paper, 2 grey and 2 white.  So, no matter if you are marking on a light or a dark background you have the right transfer paper.  I have been using this paper for around 10 years.  So far I have not had any trouble removing the lines.  I either brush them off, erase them off or use a micro fiber dust cloth to remove the lines.  I always recommend testing on a scrap of fabric first to ensure that you will be able to remove the lines.  I had 2 students who had trouble removing the grey color.  If for any reason you find the lines are not removing for you on your sample, simply trace inside the edge of each applique shape, instead of on the line, so all lines will be covered.
How to use this paper…place you fabric face up on a hard, flat surface.  Next, either tape or pin your applique pattern on top of the fabric, right side up.  You want to secure the fabric and pattern so they do not shift during tracing.  Finally, slide a sheet of the transfer paper between the fabric and pattern.  I always tell my students it is like the meat in the sandwich.  I sometimes use a stylus or just a pencil to trace.  When you remove the paper pattern and transfer paper you will have nice thin lines on your background fabric.
A big benefit to this paper is that is reusable many, many times over.  What is in this package will probably last you forever.   You can place your order on my website, under the "marking tools" section.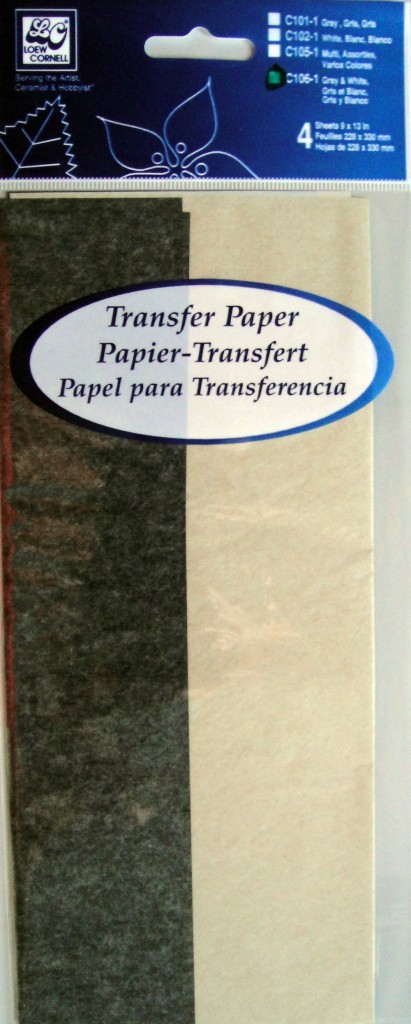 __________________________________________________________________________________________
One of the books I recently finished reading, or in this case listened to, was "Damaged" by John Lescroart.  The story is about a wealthy family who thinks they are above the law.  Soon after their son is released from prison there are numerous deaths that occur.  The dead bodies have a connection to the recently released son, Ro.  Between the family, legal side and law enforcement this made for an interesting read.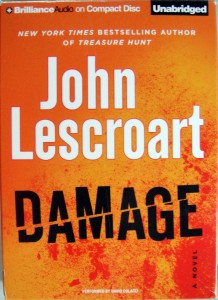 Another book I really enjoyed reading was "The Guernsey Literary and Potato Peel Pie Society".  Now that title is a mouthful.  During this past year when the subject of books came up in my classes there had to be at least 10 people, and probably more, who highly recommended this book.  I have always found that if that many people are recommending a book it will be time well spent reading it.  And they were right.  I really, really enjoyed reading this book.  It begins in 1946 when Juliet Ashton, single and in her 30's, writes to her publisher.  The book is all the letter writing that took place between Juliet, her publisher, her friend and the people of Guernsey.  Guernsey had been under German occupation and many of the letters tell of the tragic stories during the Nazi occupation.
_________________________________________________________________________________________
If you read my blog you know that I love sharing pictures of my students finished quilts.  Below is a photo of Patti Laird with her quilt that she made after taking my "Crazy Quilt Christmas Tree" workshop.  Thanks for sharing Patti.  Your quilt looks great.  Nicely done.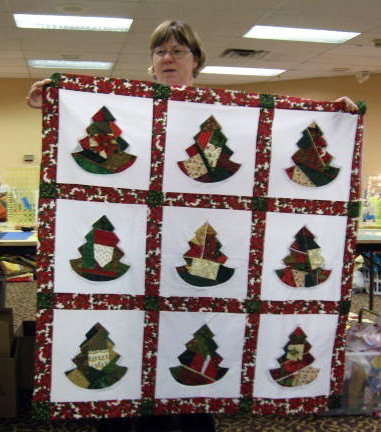 ___________________________________________________________________________________________
Some days Joe and I meet in the kitchen for lunch and whip up something interesting.  (I work on the 3rd floor in my studio and Joe's office is an addition in the rear of the house on the first level.)  A couple of weeks ago we made a Pumpkin Stew that I have to tell you is worth sharing.
PUMPKIN STEW
Pam olive oil spray
1 large onion, chopped
3 garlic cloves, minced
2 small, fresh hot chilies, seeded and chopped
1 teaspoon grated fresh ginger
½ teaspoon ground cinnamon
¼ teaspoon ground cumin
¼ teaspoon ground allspice
1/8 teaspoon ground cloves
1 (29oz.) can pumpkin
2 sweet potatoes, peeled and cut into ½" dice
1 (14.5 oz.) can diced tomatoes, drained
1½ cups water
3 tablespoons brown sugar or sugar substitute
Salt and pepper to taste
2 (15.5 oz.) cans kidney beans, drained and rinsed
Heat the PAM in a large saucepan over medium heat.  Add the onions, cover and cook until softened, about 5 minutes.  Add the garlic, chilies and spices.  Cook for 1 to 2 minutes.  Add the sweet potatoes and toss to coat with spices.  Stir in the pumpkin, tomatoes, water, sugar, salt and pepper.  Bring to a boil and then reduce to low heat.  Add the beans and simmer until the sweet potatoes are tender, about 45 minutes.
Serves 4  Yummy!