Wow, I have lots to talk about in this blog.  First, I just returned from a fun trip to Delaware.  It was nice to have a driving trip for a change.  It gives me time to listen to an audio book while I'm driving.  The Helping Hands Quilt Guild has a membership of around 100 and I think they were all at the lecture on Monday evening.  The room was packed.  Then on Tuesday I did a workshop for the guild.  The ladies promised to send me photos of some of their finished blocks later this summer.  I'm holding them to it.  I developed laryngitis while I was there and the students were real troopers about moving to the front of the room to try and hear me.  Today I have no voice at all after working hard to finish the workshop yesterday.  Here are some of the smiling faces of the guild members.

This was a great group of ladies and if you live in the area you should check into becoming a member.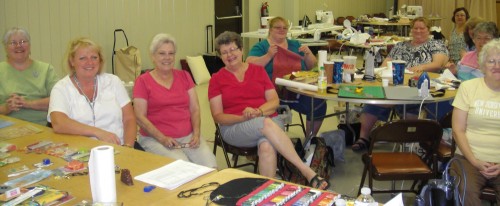 ____________________________________________________________________
I recently finished listening to Jodi Picoult's new book, Sing You Home.  Another excellent book.  I am a big Jodi Picoult fan which if you read my blog you know how much I enjoy her writing. In this book she tackles gay rights issues.  This story is about Zoe Baxter who is a music therapist.  After several unsuccessful attempts at having children Zoe's husband leaves her.  Zoe starts to pick up the pieces of her life and finds another partner.  The story is told through the eyes of the three (3) main characters, Zoe, her husband and her new partner.  Enjoy.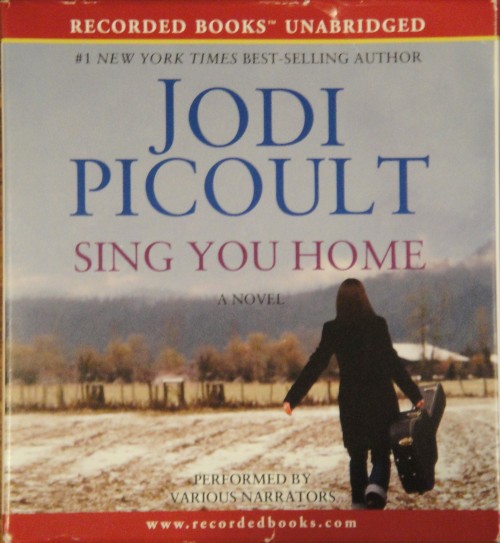 ____________________________________________________________________
On my recent trips to Long Island and then to North Carolina I had students who talked about and had a new idea for a sandpaper board.  I find a sandpaper board to be invaluable when I am tracing around the edge of a template or when I am placing shapes on my background fabric. I feel that it allows me more accuracy in my work.   I use my sandpaper board flat on a table.  I then place my fabric on top of the sandpaper board and then my template on top of the fabric.  The sandpaper grips the fabric which makes my tracing easier and more accurate.  The next place I find the sandpaper board to be useful is when I am placing shapes on my background fabric.  If I have the sandpaper under my background fabric it holds the background securely in place until I get my applique shape pinned or glued.
This idea is quick and inexpensive.  At the hardware store purchase a peel and stick floor tile.  Peel the paper from the back.  Place a piece of fine grain sandpaper, sand side up,  on the sticky side. I then used my rotary board, ruler and a utility knife to trim the excess floor tile away.
When I' m finished, in about 5 minutes, I have a great and inexpensive sandpaper board.
The adhesive back really holds the sandpaper securely in place and makes a firm foundation on which to trace and place.
______________________________________________________________________
Studio update.  I got lots done this past week in the new studio.  Jim, the electrician has most of the lights in place.  And I moved lots and lots of fabric onto my new shelves.  There is still a lot to do but I made a lot of progress this week.  Isn't the fabric just beautiful?  I am so excited.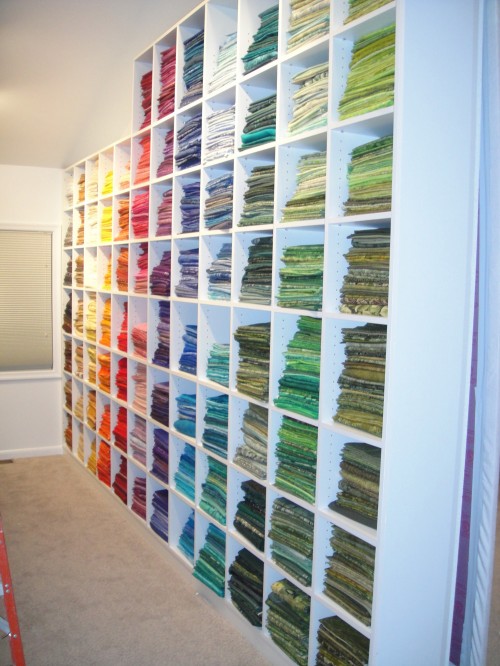 Around the corner….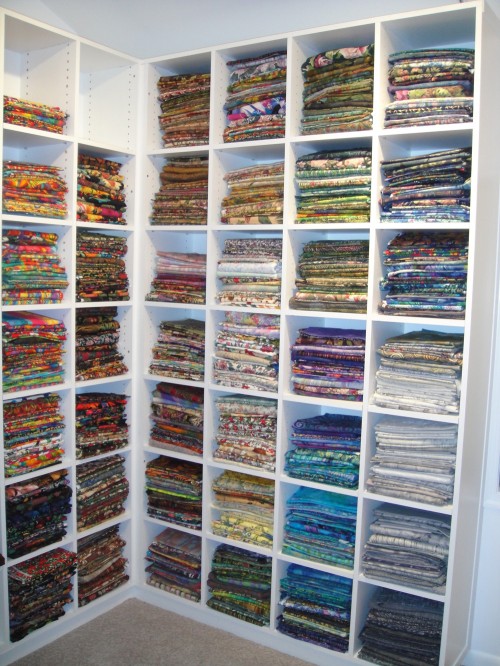 The desk top is finished but Lewie still has to attach it and drill a hole for the cords.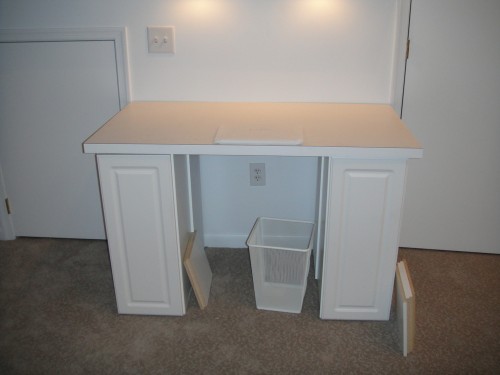 Joe's buddies came over and helped move some of the heavy pieces.  I'm waiting for the TV to arrive.  It will hang on the wall between the two sewing machines.  Joe made a trip to Ikea for me this week and purchased the large white table.  I love it.   Note: under the large table there are outlets in the floor.  Jim put 3 outlets in the floor for me.  I know they will get lots of use.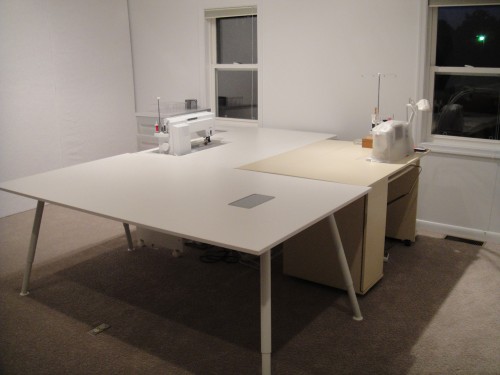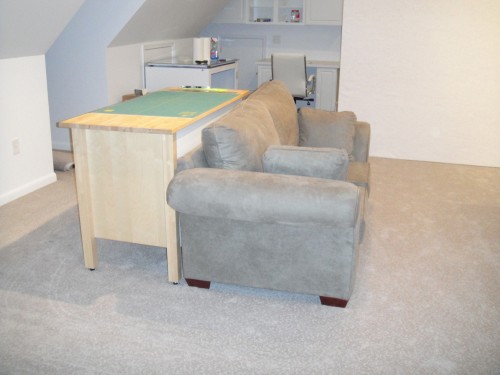 ______________________________________________________________________
This past week I received a really pleasant surprise when a student who had taken a workshop with me last summer in Maine sent me images of the project she made as a result of the workshop.  Margaret Solomon Gunn sent me photos of what she did using my block "Heard It Through the Grapevine" with lots of modifications.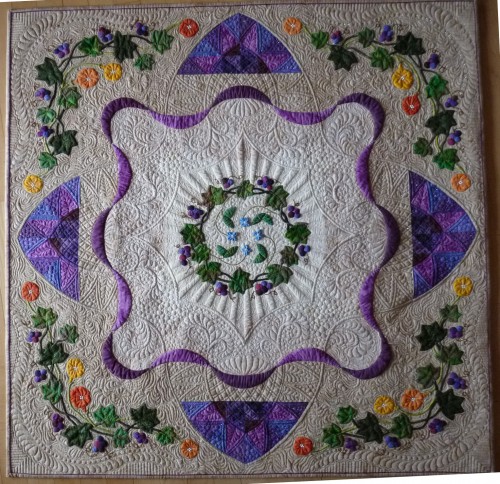 I love what Margaret did with the design and her machine quilting is outstanding.  I hope she wins lots of ribbons.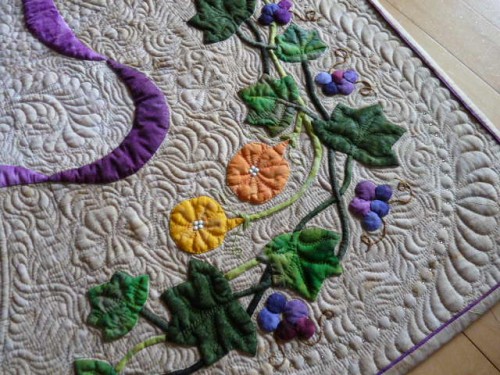 Talk to you again in a week or so.  Hope to have more to show you in the studio in the next blog.