If you have never attended Quilt Festival in Houston, Texas this is something you should put on your bucket list of things to do before you die. It is the largest quilt show in the United States. It is the most amazing quilting event I have ever attended. For those of you who live in Texas you already know this but everything is bigger in Texas! The show is held at the George Brown Convention center. Prior to Quilt Festival the Quilt Market is held for quilt shop owners and vendors who sell quilt related items. Hundreds of vendors bring their products to show to perspective shop owners who then pick and choose what they will bring into their shops for you, their customers. Many of these new products are then sold during Quilt Festival. There are lots of new books, patterns, notions and fabrics introduced during these shows. I just love seeing what's new. Here are some photos of what the isles look like.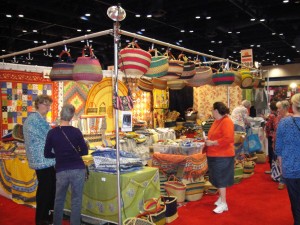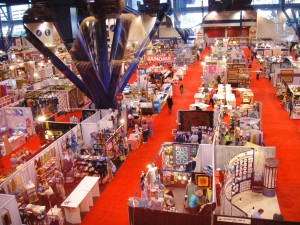 During Quilt Festival there are hundreds of workshops and classes offered. It is the largest selection of classes offered at any quilting related show. When you get the brochure of class offerings in the mail it takes a day or two to read through all of them. There are also lectures held at lunch, in the evenings, etc. So much to do and so little time. On the show floor in addition to the more than 400 vendors there are special exhibits of quilts. More than 1,500 quilts are exhibited. Probably the most importanat part of this show is the "Quilts: A World of Beauty" show. The quilts for this show are first juried and then later judged. There are around 400 quilts judged and hanging on the showroom floor. The prize money is some of the highest awarded at any quilt event. This years Best of Show award went to Caryl Bryer Fallert for her quilt "On the Wings of a Dream". See Caryls quilt below.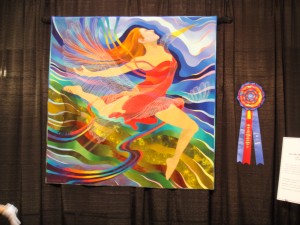 And a close-up shot. What an amazing quilt.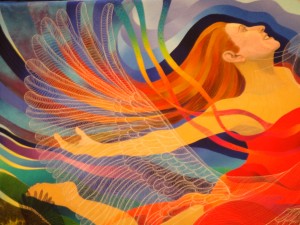 There were so many quilts to see. I've decided to show you my top five favortie quilts. Just so you know…that does not mean I did not like the other quilts. There are just too many to show you here on my blog. You can go to www.quilts.org to see all of the prize winning quilts. It was really hard for me to only pick 5, but here goes.
I loved "Garden of Dreams" by Fusake Takido from Japan.  This quilt won the Founders Award.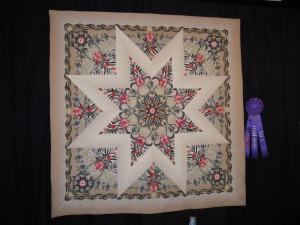 Two of my favorite quilts were in the Art-Nature Scapes category. One of them is "Crossing Over" by Cookie Warner from Colorado. It won first place in its catagory.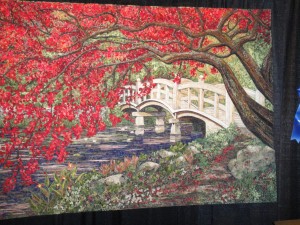 Another one of my favorite quilts in the same category was called "Puzzled".  I loved this concept.  Maybe it's because I love to do puzzles.  The idea of leaving some of the puzzle pieces along the lower edge was excellent. This quilt was made by Ruth Bloomfield from Australia. This quilt won 2nd place is its catagory.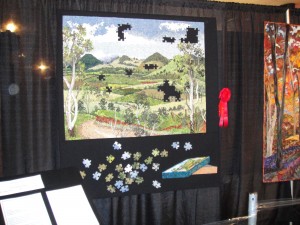 The quilt that put the biggest smile on my face was "The Great Crate Escape" by Pauline Salzman from Florida. So cute. I thinky my two dogs could pull this off.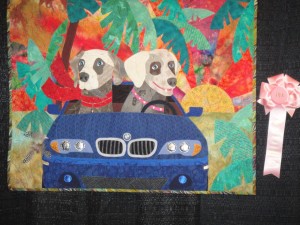 I don' want to think I am biased about this choice, but I am. Vicki Jenkin from Australia made my "Magical Medallions" pattern. Awesome. Well done Vicki. I know how much work it took to complete this project. Vicki won an Honorable Mention in the Traditional Quilt catagory.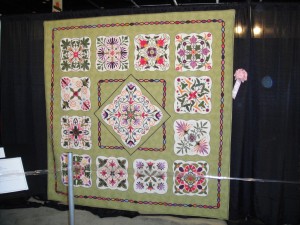 While I was in Houston for the week I taught five different workshops and met some truly wonderful students. Their enthusiam was contagious. This is one of the few shows that asks the students to evaluate the teachers by completing an evaluation form. Based on the comments on the forms I received the students had a fantastic time and learned a lot. The comments were glowing. Thanks to all of my students for allowing me the opportunity to share my applique techniques and border ideas with you. It really was my pleasure.
And finally, I always find time to volunteer in the booth with Ami. Attendees can purchase a small quilt at this booth, coordinated by Ami Simms, with funds going toward Alzheimer's research. The two goals are to raise awareness and to fund research so that a cure for Alzheimer's can be found. When I was in the booth on Saturday morning they were up to $30,000.00 in money raised during the show. Way to go Ami. For more information go to www.alzquilts.org