I hope everyone had a relaxing Thanksgiving. We had a wonderful time with friends and ate way too much!
I had a quick trip to Tampa last week and taught for two guilds, Cypress Creek Quilt Guild and Quilter's  Workshop of Tampa Bay. One of my comments….It's always good to be  asked back to a guild because I know I did a good job the first time.  In this case I was back to both guilds….Cypress Creek for the third time!  Both guilds had fantastic members but I forgot to take photos. While I was teaching Joe did take a picture of our hotel restaurant. Ahhh! I did not want to leave.  It was my last day to wear sandals for a while….too cold here in Pennsylvania for sandals.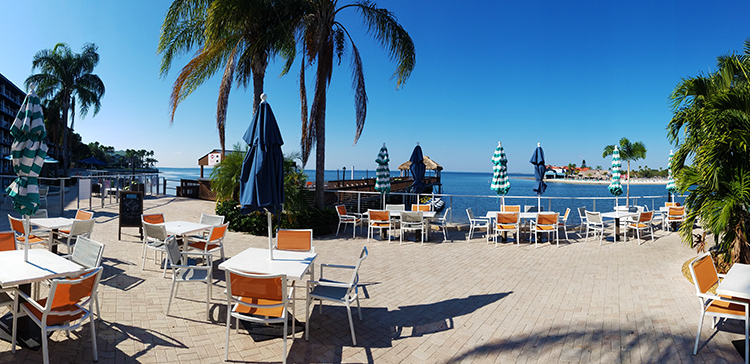 More quilts from the Houston Show:
"After the Storm" by Ruth Powers of Cabondale, Kansas won first place in the Art-Naturescape category. To learn more about Ruth and her work visit her website at http://www.ruthpowersartquilts.com.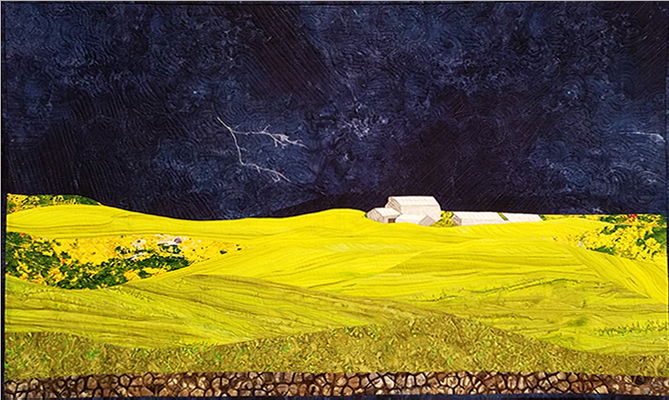 a close-up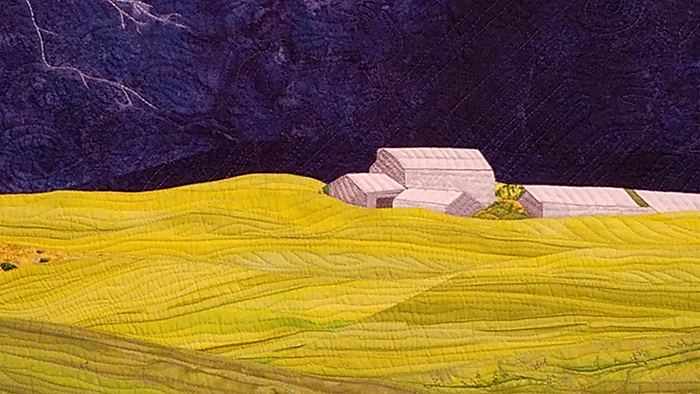 "Spring of the Watery Palace" was a ribbon winner in the Art-Pictorial Category.  This wonderful piece by Jin Dong of Qingdao, Shandong, China may have been the largest quilts in the judged show.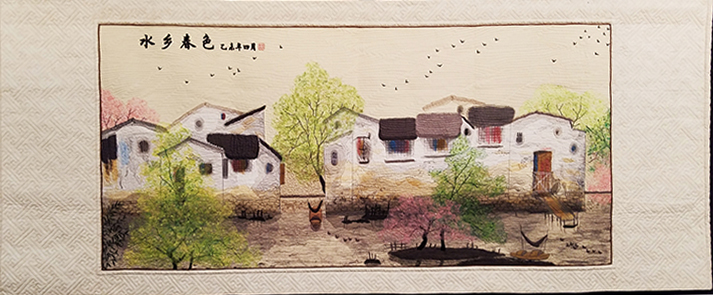 a close-up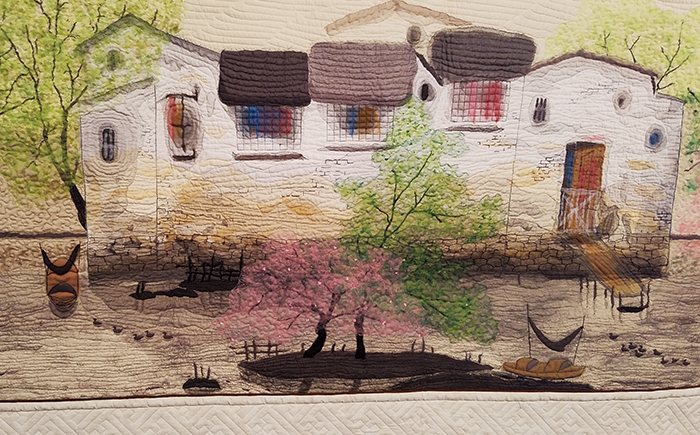 I enjoy every quilt made by husband and wife team, Hiroko Miyama and Masanobu Miyama,  of Chofu City, Tokyo, Japan. "Lazy Afternoon" was no exception. It was also a ribbon winner in the Art-Pictorial category. To see more of their work visit their website http://www.hirokomiyama.com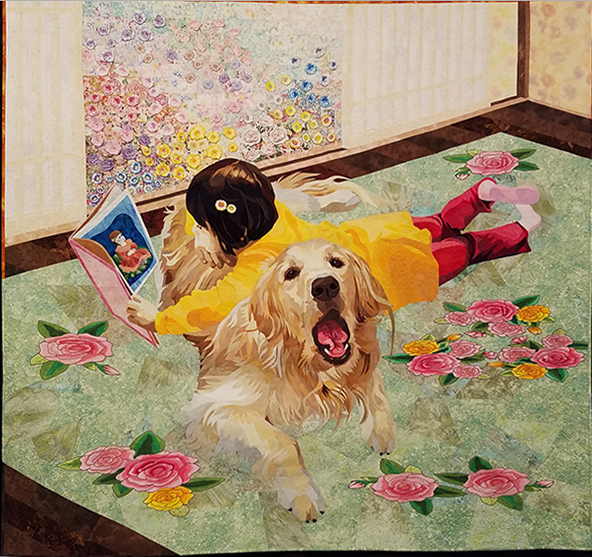 Look at their masterful use of thread and fabric.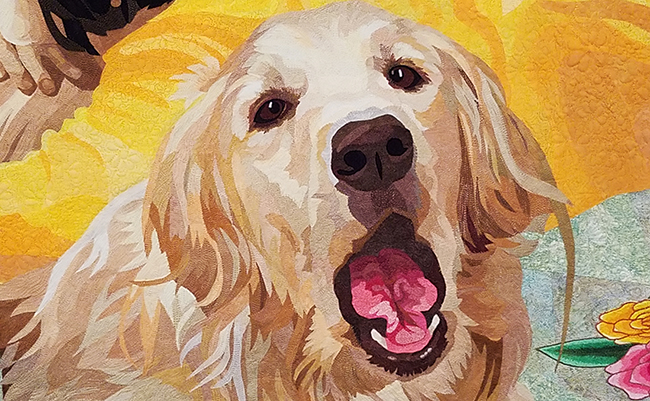 "Mayan Journey" by Judith Roderick from Placitas, New Mexico was another large and beautifully embellished quilt. Read more about Judith and her methods at http://www.judithroderick.com

Look at all the great buttons.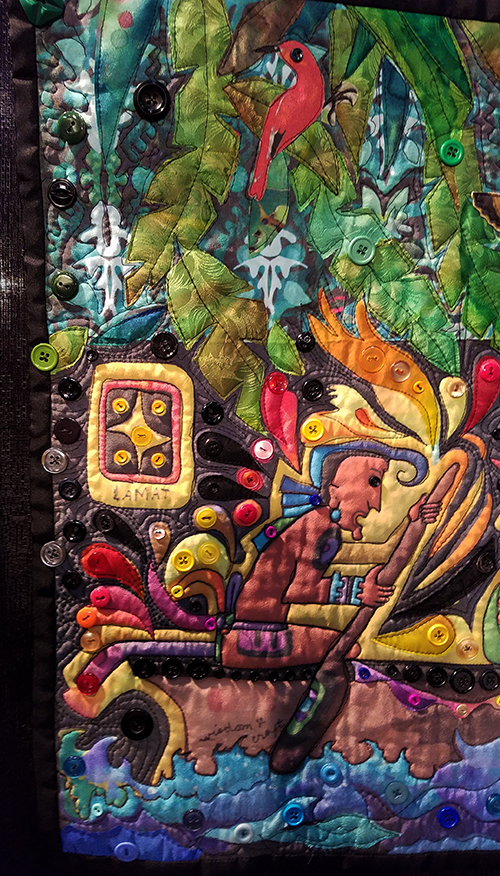 "Esperanza" by Jennifer Day of Santa Fe, New Mexico is magnificent. This digital imagery piece had 86 different colors of thread. Wow.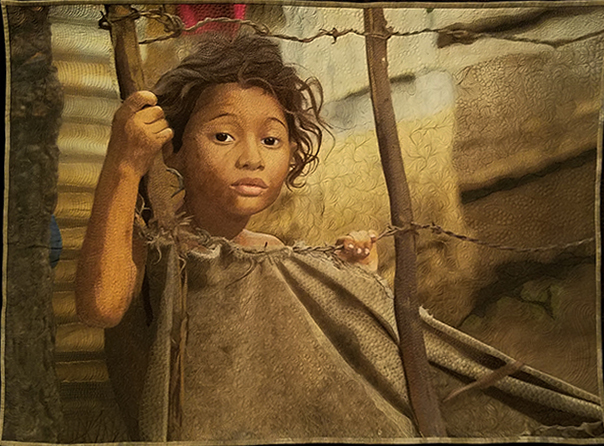 a close-up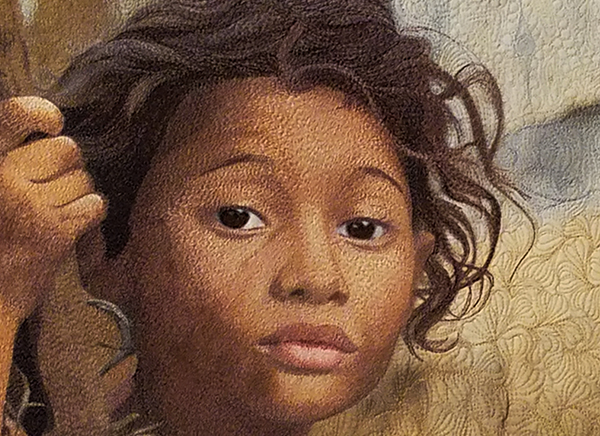 To see more of her work and a list of her classes visit Jennifer's website http://www.jdaydesigns.com
As many of you know, last year I had an artificial value placed in my heart and a cow gave its life so mine would continue. Thus, I feel a kindred spirit with cows.
"GMO?" by Suzan Engler of Panorama Village, Texas won first place in the Digital Imagery category. This piece was for sale and I so wanted it to be hanging in my home but waited too long. Find out more about Suzan and her work by visiting http://www.suzanengler.com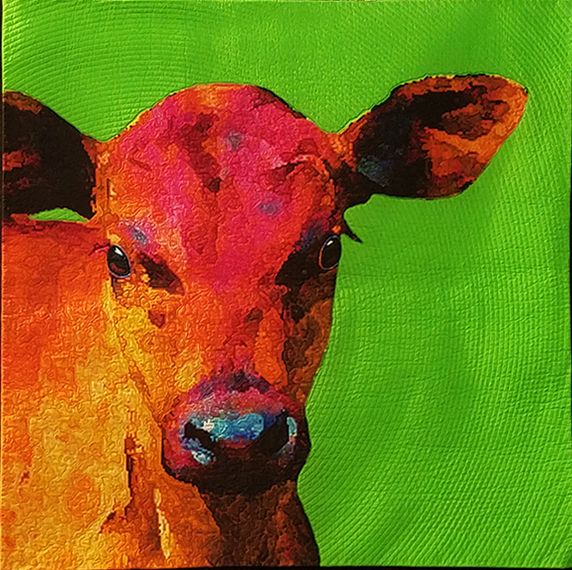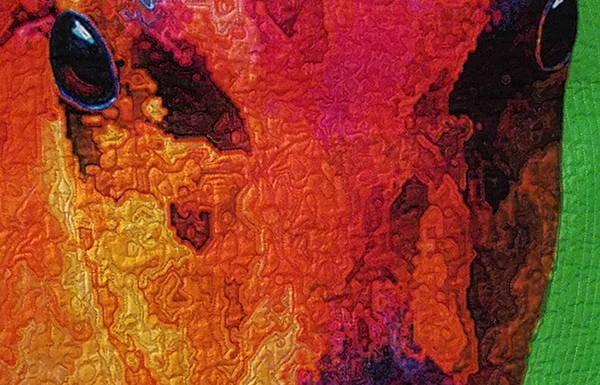 "Little by Little"  by Ximo Navarro Sierra of Canals, Valencia, Spain was a ribbon winner in the Merit Quilting Machine-Stationary category. This Spanish quilter had two great quilts in the show and both were awarded ribbons. Fantastic! All the light color is not fabric, but the quilting on a dark, solid piece of fabric!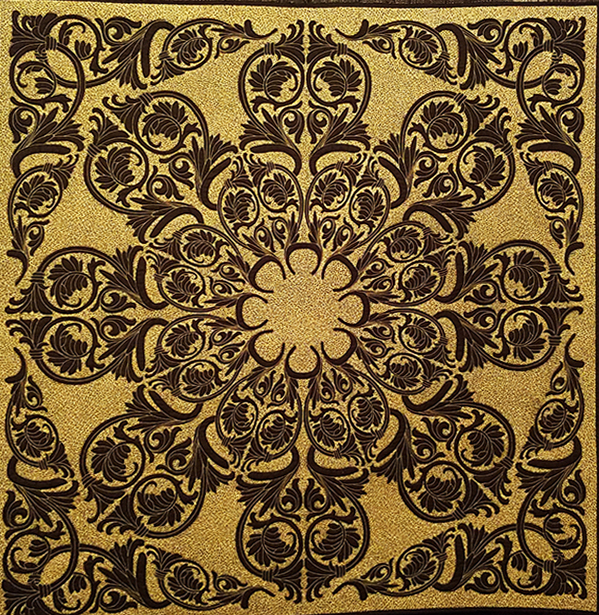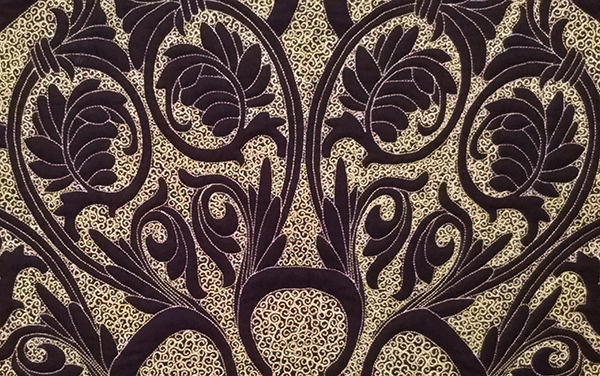 The work of Susan Bleiweiss of Peperell, Massachusetts brings a smile to my face. Here is one of her newest works "Tutti Frutti Whimsy Way."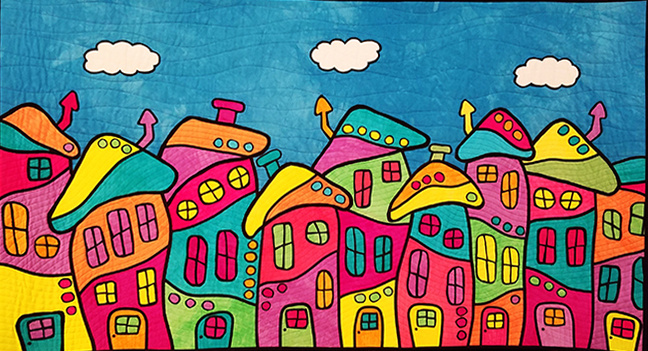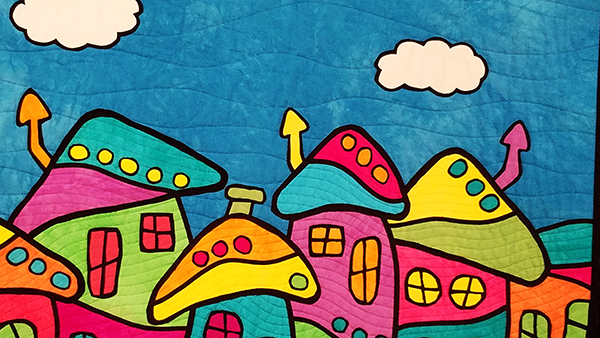 To see more great quilts from Susan visit her site at http://www.susanbleiweiss.com
"Jacobean Duet" by Paula Doyle of Staines-upon-Thames, England, United Kingdom was inspired by an 1810 piece exhibited in the Metropolitan Museum of Art.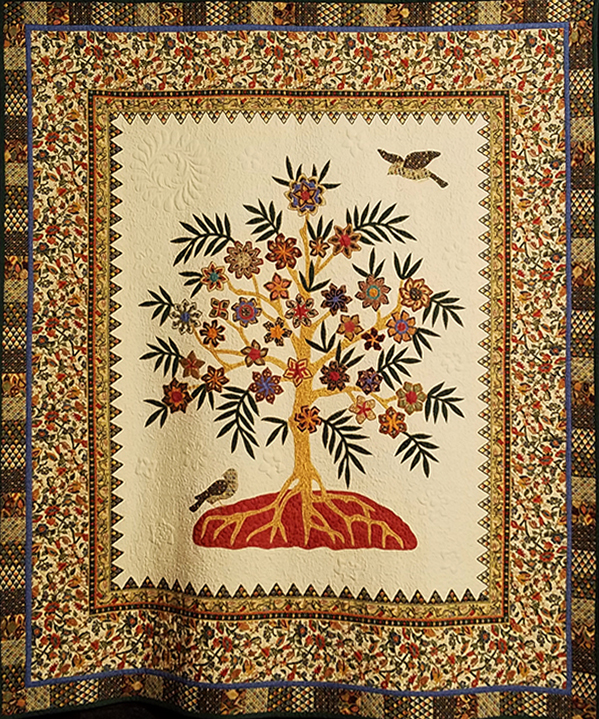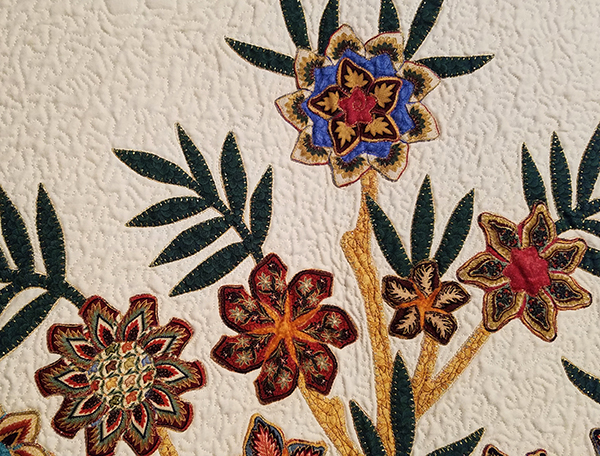 The Houston Show is truly an International Show by quilters from all reaches of the globe. I am so happy to be part of such a great group of ladies and gentlemen.
__________________________________________________
BOOK REVIEW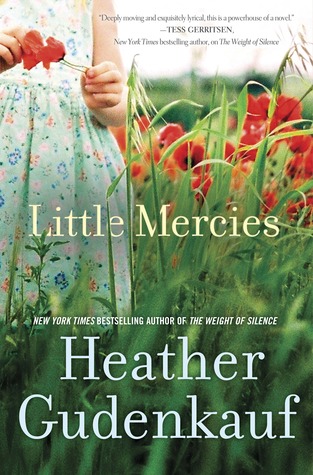 Thank you to the person who highly recommended I read "Little Mercies" by Heather Gudenkauf.  It was a really good read.  Ellen Moore is one of the main characters.  She is a long time social worker with a very active family which includes her husband and three children.    A distraction one day changes everything.  The other main character is Jenny Braird who lives with her irresponsible father.  Very good book.  I would give it five stars*****