Reviews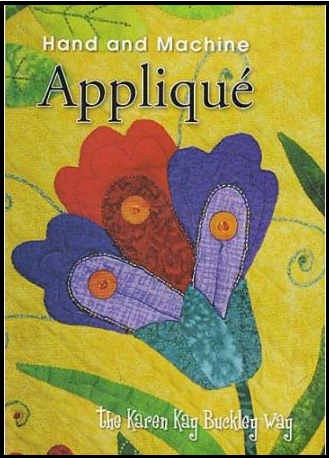 Hand and Machine Applique - What reviewers say - con't
I just finished watching the DVD I recently ordered from you. What a pleasure to watch such a professionally executed lesson in all things applique. It was all presented so clearly, yet in a relaxed and conversational manner. I appreciated how thoroughly you explained the uses of all of the current tools. Bravo. I anticipate a great improvement in my skills. Thanks for making this guidance so accessible.
— Mary Lou Omah
---
Thank you...I received my package yesterday. I watched your DVD this morning. Oh my gosh, it was wonderful. I loved it and learned so much. The video was outstanding. It was done so well. All the color & sound were perfect. Loved your narration also. Thank you for the excellent DVD.
— Yoshie Akaba
---
McCALL'S QUILTING MAGAZINE-APRIL 2009 www.mccallsquilting.com
Author, teacher and award-winning quilter Karen Kay Buckley presents a 10 chapter, 2 hour course on everything to do with applique. Close-up video photography and Karen's chatty, informative style make this DVD a must-have resource on applique, placement, templates, hand and machine techniques, edge turning, reverse applique, stems and finishing.
---
THE APPLIQUE SOCIETY www.theappliquesociety.org
Karen Kay Buckley has been quilting for 25 year and has completed 250 quilts. She brings all this experience to her designing as she creates intricate and stunning appliqué quilts. If you ever have a chance to take a class from Karen jump at it. No matter how experienced an appliquér you are you will learn so much. For those of us who may not be able to learn from Karen in person I have some good news. Karen has just released a DVD called "Hand and Machine Appliqué The Karen Kay Buckley Way". On the DVD Karen shares her thoughts on the following:
Supplies: These are tools Karen prefers to work with and include such items as markers, scissors, bias bars and bias makers and even the iron that works best for her techniques with directions on how to make your own pressing surface. Instructions on how to use many of these supplies are found throughout the DVD as she address other issues that impact your work.
Placement of Appliqué using a light box or transfer paper and working with background fabrics.
Making templates using Templar® and freezer paper and determining which product will work best for your particular design.
The appliqué stitch using both hand and machine stitching. Topics for hand appliqué discuss inner and outer points, turning under the edge using needleturn or Templar® and Magic® sizing, working with perfect circles and preventing shadowing.
The machine appliqué segment contains a discussion on what foot to use, needles, thread and position of thread in relation to the machine, bobbin thread, stitches, inner and outer points and working with tricky shapes.

Karen also demonstrates her method for reverse appliqué and creating stems by cutting the fabric on the grain or the bias. Stems are created using either the needleturn method, Clover bias makers and heat resistant plastic strips. Finishing your quilt block is important and Karen passes along some good tips on squaring a block that contains dimensional elements.

All information on this DVD is presented in a clear easy to understand manner with excellent film work. It was a pleasure to get a peek at some of Karen's many quilts used in the background as she moves from segment to segment. Total run time 2 hours.
---
Karen... Ordered a DVD on Fri 1/23 and received on Mon,1/26. Wow...that is great service. The DVD on Applique was very well done and gave so much information. I am new to applique but now I think I can do this. Thank you for a wonderful product and service.
— Susan Burtrum
---
Karen,
I recently ordered and received your DVD, and just have to tell you it is absolutely fantastic. I felt like I was in a private class with you. It is thorough and exceptionally well produced, and I just placed an order for several of the items you mentioned.

I was privileged to attend your presentation at the Olathe Quilters Guild a year or so ago. I've been a fan since the first time I saw you on Simply Quilts and then bought the mylar washers from you and made my first circles -- I have been a KKB groupie ever since -- I LOVE TO MAKE CIRCLES now! (Well, I LOVE to applique.)

Thanks,
— Edie Gottschall