My guild, the LeTort Quilter's, has been in existence since 1983 and I have been a member ever since it's inception.  I have been the guild's president and in spite of my busy teaching schedule, I continue to be active in some way.  I think it is important to give back to something that has given me so much.  Over the years I have attended hundreds of lectures and many workshops with my guild.  I have learned many new things by being part of this guild.  I have many life long friends as a result of being active in this guild.   I have always felt part of this group and no matter my skill level, from when I first started until my current advanced level, my guild has always been there supporting and encouraging me along the way.  For this I am very grateful.
Every two years my guild hosts its show along with a local juried artist show called Foundry Day.  It is always the first weekend in June.  At this Saturday's "Quilt Festival" I was amazed at the quality of the quilts and the abundance of different designs.  The skill level in my guild is phenomenal.  The quilts that I wanted to share with you in this blog mean the most to me because they were started in my classes.  (I'm not going to tell you what year they started!)
I am so proud of Donna and Debra Lohman.  Both of them have shown a skill level that makes me proud to know them and to have been a small part of their growth as quilters.  Donna started this quilt during the year long Baltimore Album classes.  These classes met once a month for one year.  The students objective was to complete one of these hand appliqued blocks each month.  Donna's finished quilt is a thing of beauty.  I love the border treatment and the overall balance of this quilt.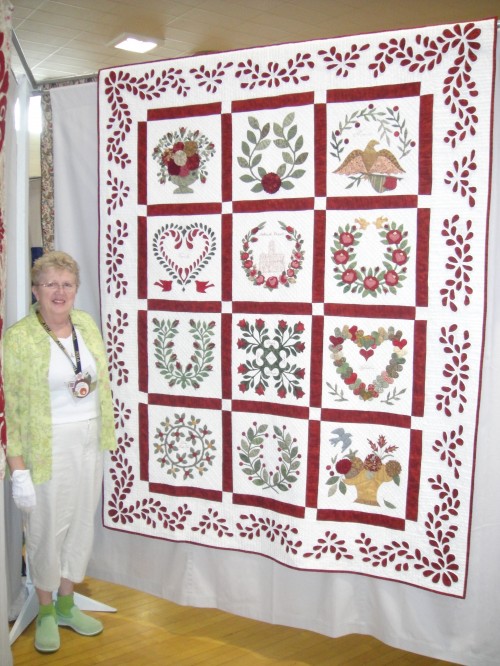 In this close-up shot you can see how beautifully hand quilted it is.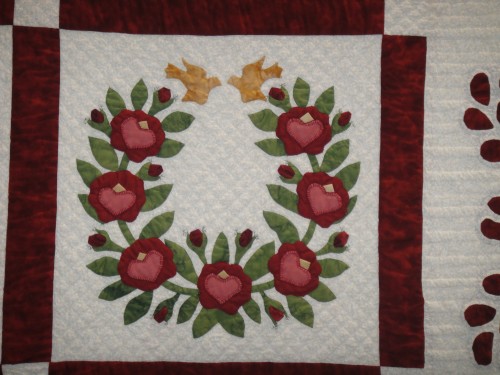 Not to be out done,  Donna's daughter Debra is just as talented.  Not fair that so much talent ended up in one family!!  Debra also had her quilt from the Baltimore Album classes finished and displayed in our show. Great colors and a very complimentary border design.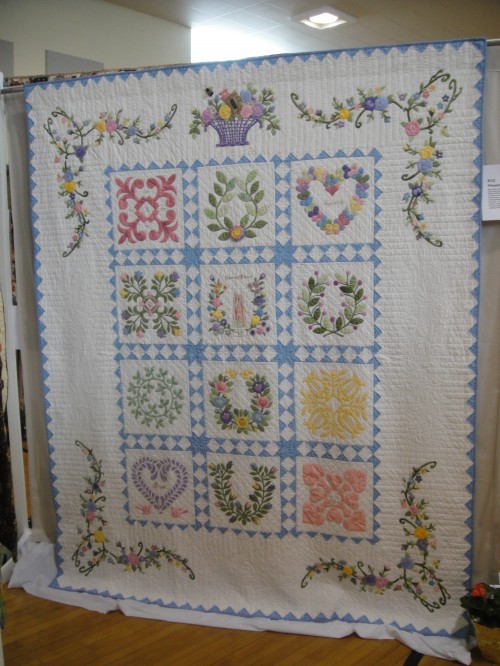 And again, fantastic hand quilting.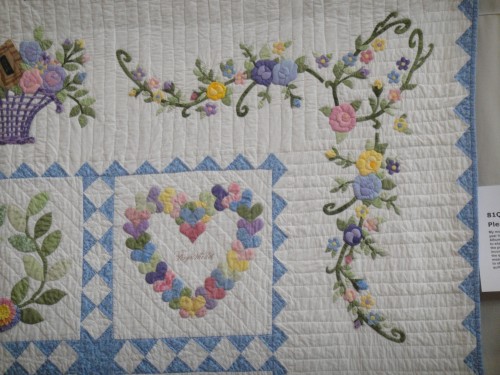 And yet another student had her finished quilt on display at the show.   Jackie Kreitzer made this quilt after taking my Beginners and Intermediate quilting classes.  This is Jackie's first quilt.   It was made in a quilt-as-you-go method.  Jackie made her quilt completely by hand.  This is impressive workmanship for a first quilt.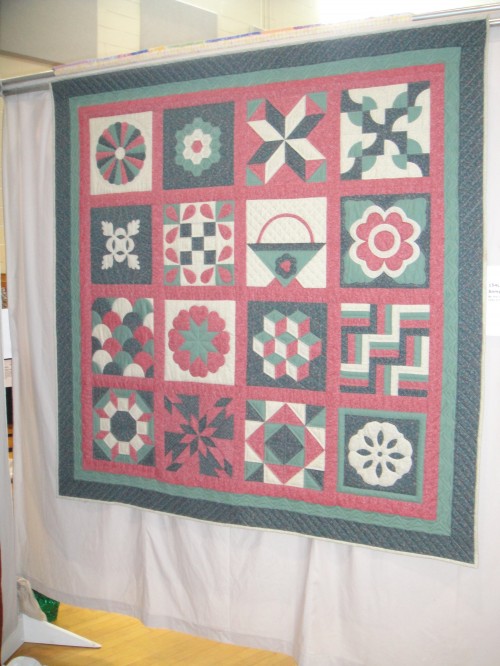 The Lohman's also had two pieces from a class I taught for my guild in January.  This is one of the blocks taken from my larger quilt pattern "Japanese Garden Quilt". It is machine appliqued and machine quilted.  Great workmanship and great color choices.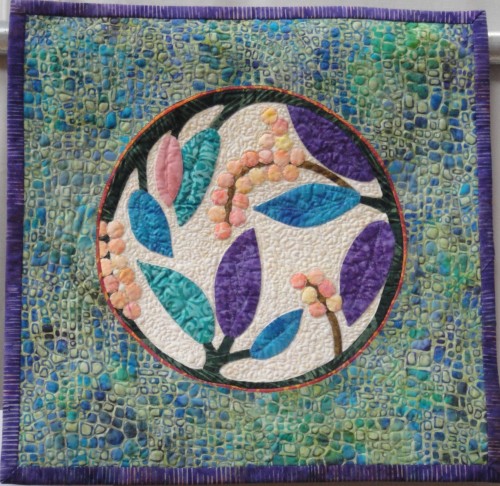 I am so proud to be part of the LeTort Quilter's and to have shared in a small way in promoting quilting in my area.  Thanks to my students for finishing and for sharing.  You make me proud.