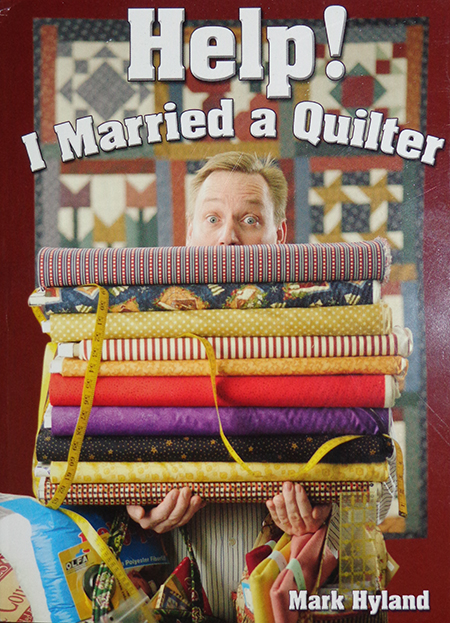 I was lucky enough to meet Suzanne Hyland in one of my classes in Phoenix.  She offered to send me a copy of the book her husband wrote, "Help!  I Married a Quilter".  Many of you who read this blog will be able to relate to this book.  It could be a fun gift for your spouse or significant other.  There are lots of funny parts to the book.  I smiled a lot while I was reading.  One selection I really enjoyed was Mark's interpretation of the meaning of some block names.  He referenced that many blocks had a significance relating to the Underground Railroad.  For example:  One story I read years ago indicated that if a slave saw a log cabin quilt hanging, with a red square in the center, it was a place to get help.  Mark mentioned some of these meanings but then came up with his own meaning of the "Secret Society of Quilters".  For example:  "Log Cabin:  This person will keep all of your quilting secrets from your husband".  I really enjoyed this section of the book.  I also liked where Mark compared golf and quilting.  He said "…when golfers finish a round all they have is a score to either brag or complain about. Quilters who finish a project have a work of art that can be shared and admired for generations".  The Glossary in the back of the book is also quit funny.  You can purchase this book at http://www.quilterstouch.com/shop/product/help-i-married-a-quilter/.  The book is $9.95.
______________________________________
I promised more quilts form the AQS Show in Phoenix so here goes.
"Flower Baskets" was made by Betty Nyseth from Surprise, Arizona.  From a distance it looked like a nice, typical Log Cabin quilt.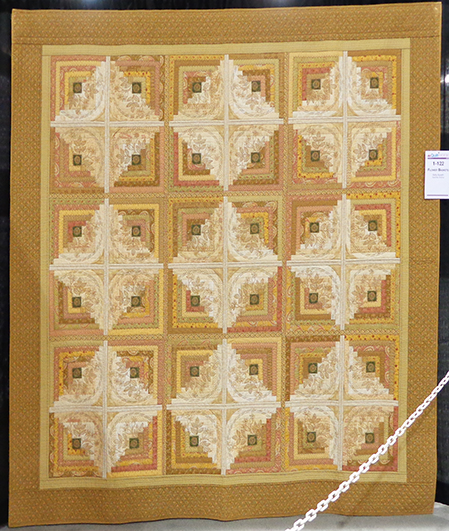 But, up close this quilt was anything but typical.  It has some wonderful details.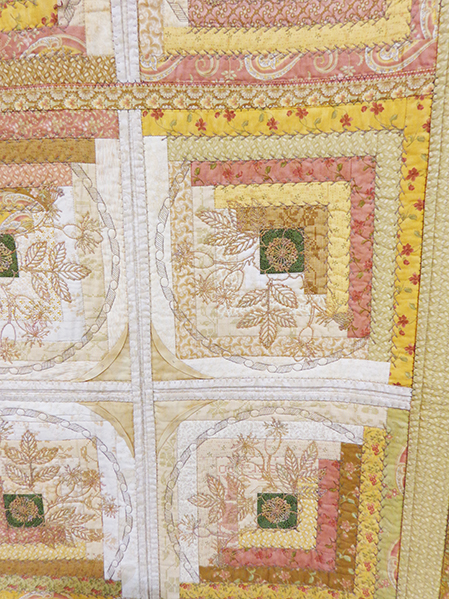 "My Sedona Star" was made by Joyce Triezenberg from Grayling, MI.  It took third place in the Innovative Bed Quilt category.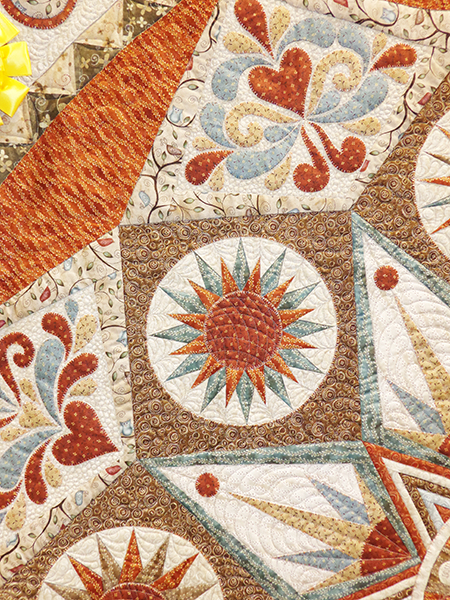 "Keep It Simple" was made by Jodi Robinson from Enon Valley, PA.  It won Best Modern Quilt.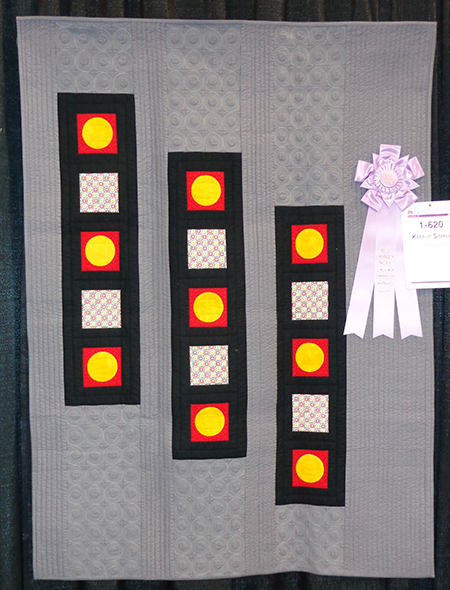 To find our more about Jodi you can visit her website http://jrdesigns.wordpress.com/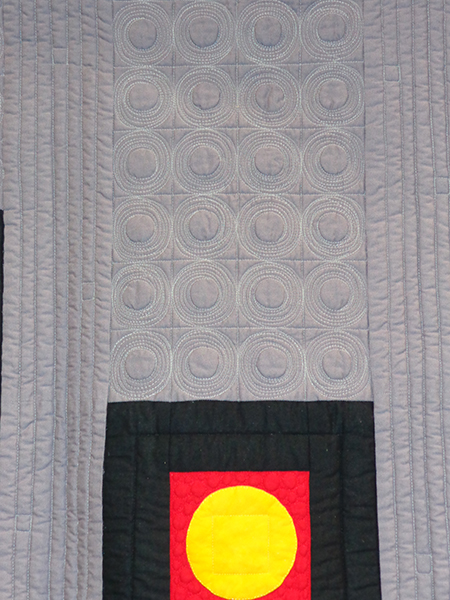 "Wandering 'Round My World" was made by Beth Schilling from Columbus, OH.  Beth won the Best Innovative Quilt Award.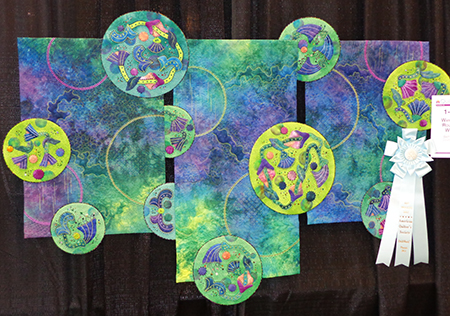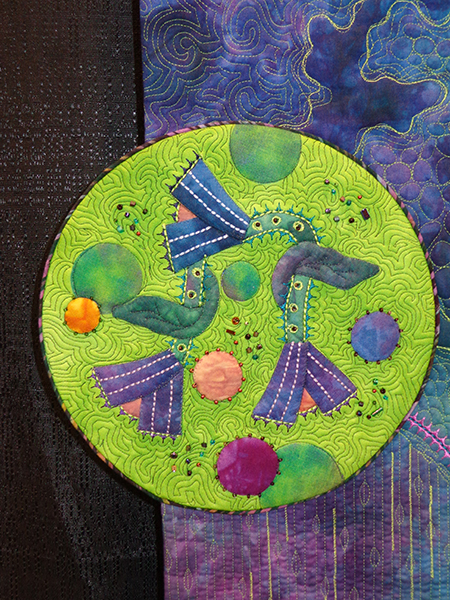 "Hurricane" was made by Janneke de Vries-Bodzinga from the Netherlands and she won the Best Wall Quilt Award.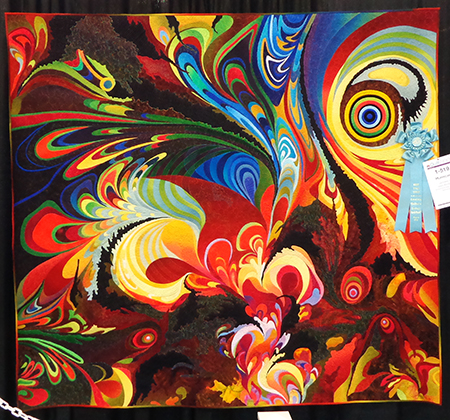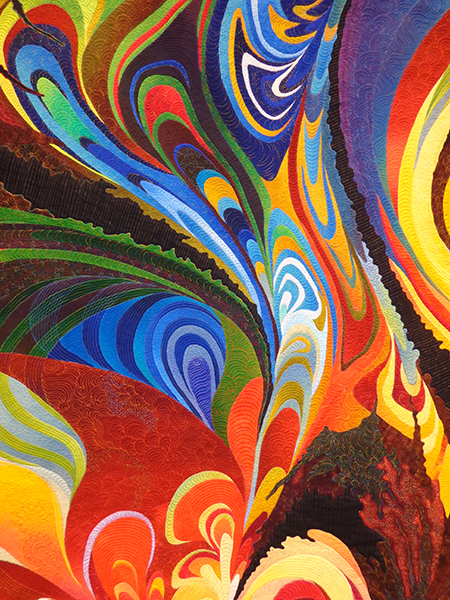 If you want to find out more about the many shows presented by AQS visit their website www.americanquilter.com