This weekend I was invited to teach for Judy Fenton at the "Quilting Around Chautauqua" seminar.  www.quiltingaroundchautauqua.com . The event is held at the Chautauqua Institution www.ciweb.org  and I believe it was the eleventh anniversary. It is an absolutely beautiful area along the massive lake.
Day one I taught my Garden Medley workshop.  I had a great bunch of students.  Here they are packing up at the end of the workshop.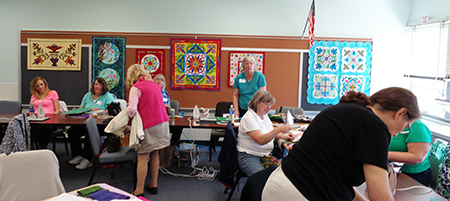 The lecture venue was wonderful.  Joe snapped this picture as the attendees were making their way into the lecture hall.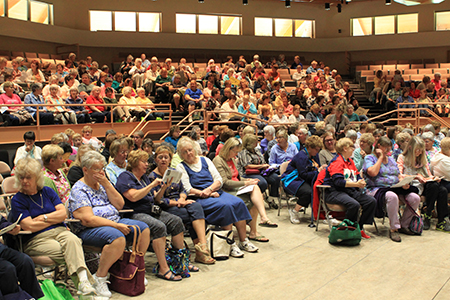 In the mornings it was a bit foggy as we walked around the area.  I am not a big fan of spiders but the webs with the dew are truly incredible.  There literally were thousands of webs…..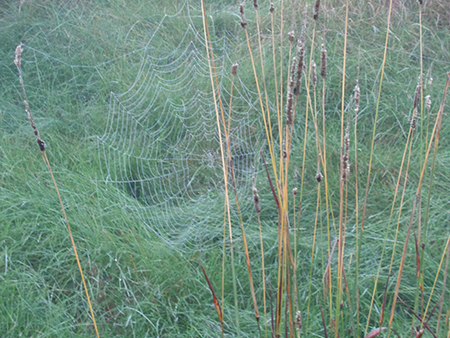 We took the girls with us and the Athenaeum Hotel had some pet friendly rooms. This grand hotel had a massive lobby area with fifteen foot ceilings and some of the vendors were set up inside this area.  This impressive old building had a super large wrap around porch with many, many rocking chairs on which to pause, relax and lookout on the grounds and lake.  The hotel rooms themselves could use some updating but the building and views are incredible.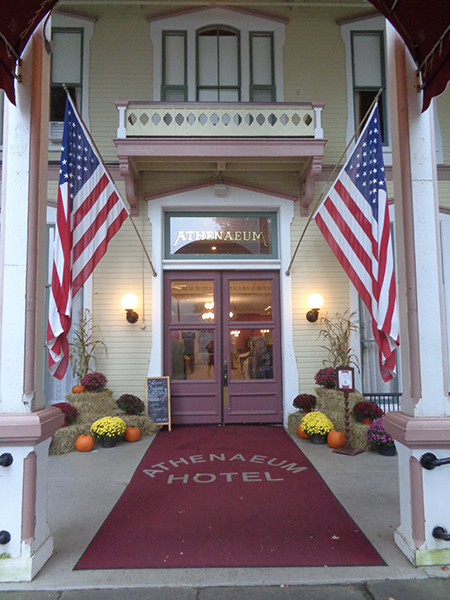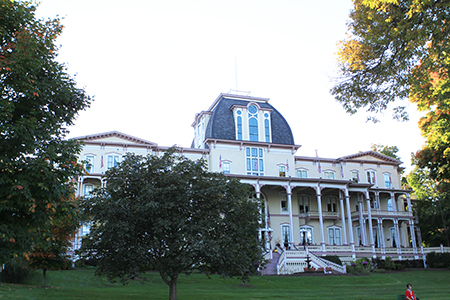 There were around 800 quilts displayed throughout many buildings within this historical community and shuttle buses were busy taxing quilters from place to place because there is very limited parking.  The vendors were scattered around in different buildings and the day was great just to stroll around finding new treasures.  In the building below was a great display of the quilts from Merna Hilbert.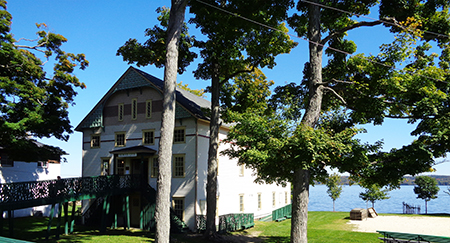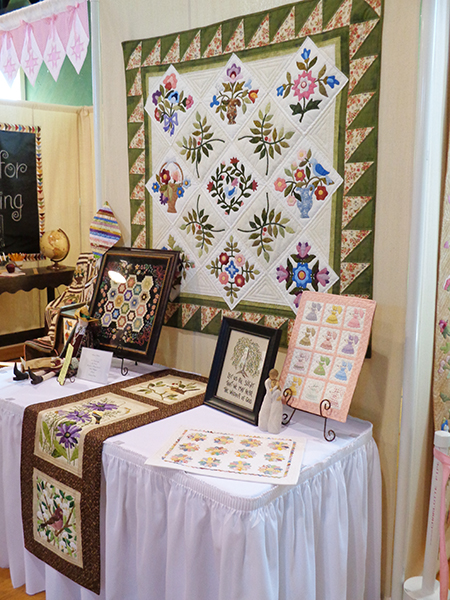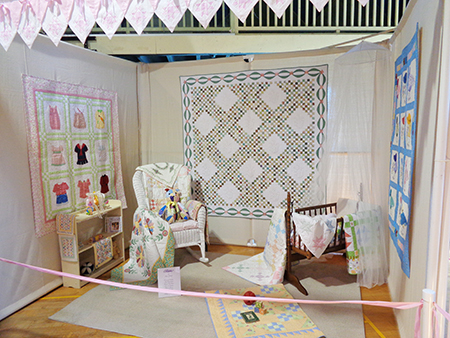 Below are some photos we took as we walked around the Chautauqua Institute.  Some of the houses are privately owned and some are summer rentals.  This will give you a taste of the area.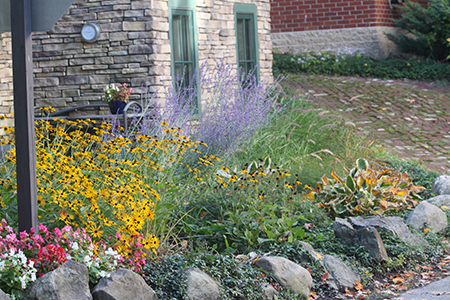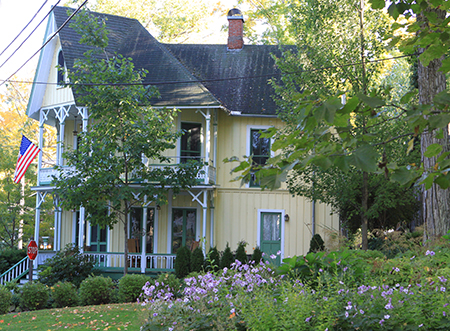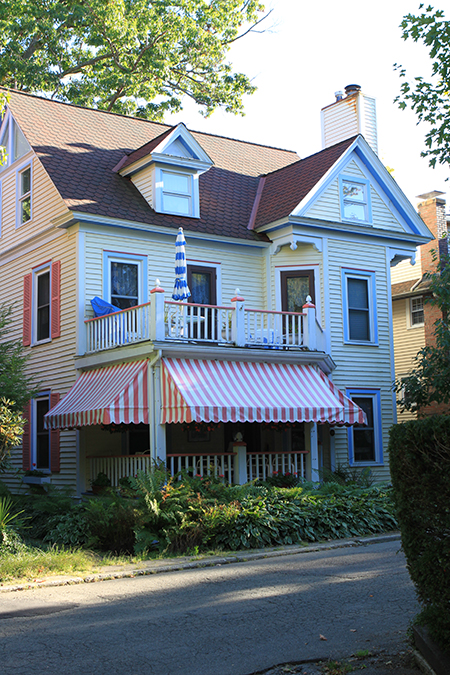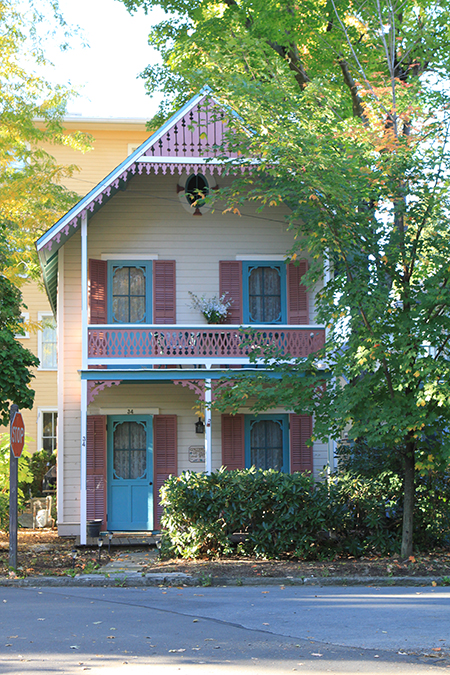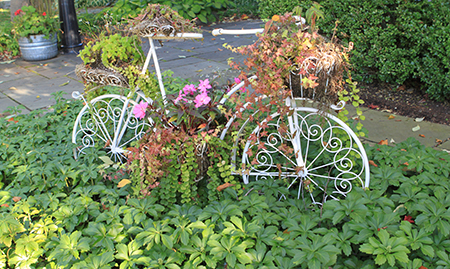 I'm giving this house the award for the best outside stairway ever.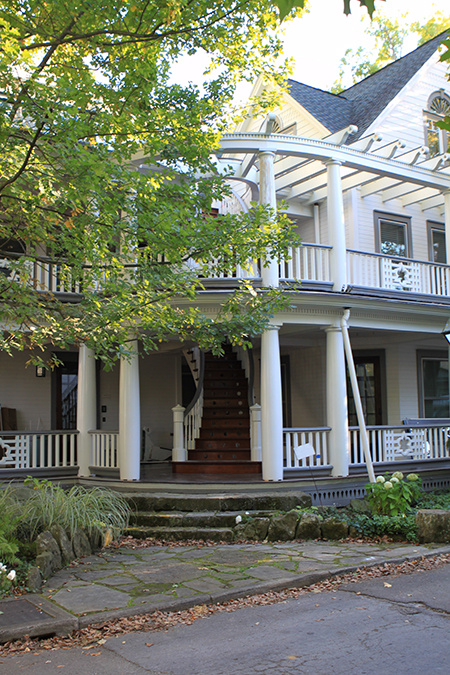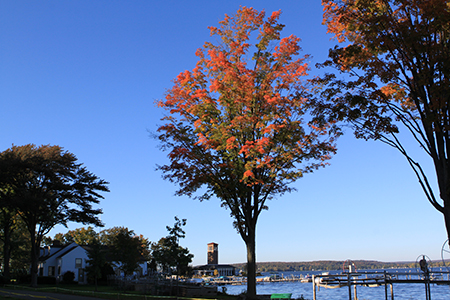 If you get a chance you should book a trip to next year's event as you will love it!
————————————————-
I just received this photo from Judy Wolff who took the Majestic Mosaic workshop this summer at the Creativity Center.  Thanks for sharing Judy.  Your block looks so good.
FYI…the full pattern for the Majestic Mosaic quilt is at the printers.  It should be ready to ship in the next 4 to 6 weeks.  Yippeeee!!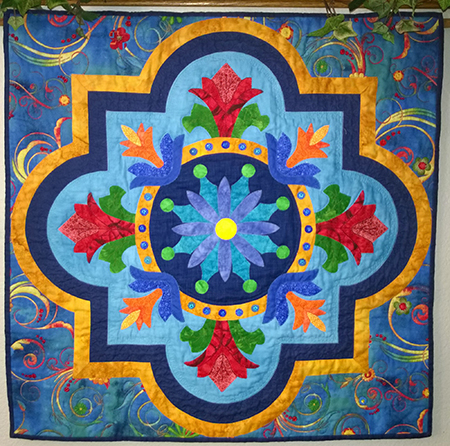 This coming week I am off to Michigan…….